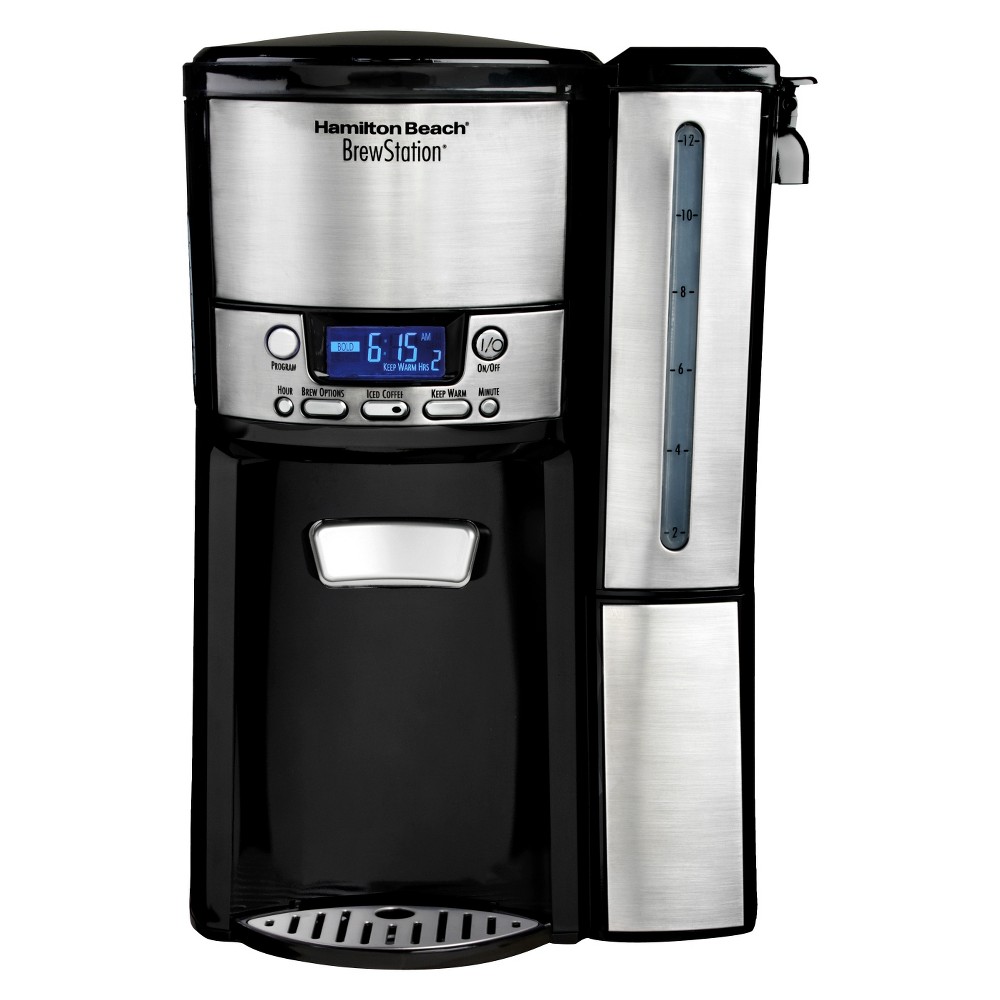 Find out the best features of Hamilton Beach 12 Cup BrewStation Coffee Maker- 47950 14247177. Select the best value you need!
Brand :
Hamilton Beach
Model :
47950
SKU :
14247177
Shipping LxWxH : 11.2 in x 11.7 in x 15.8 in
Price :
$49.99
Check Current Price at Target!
US::Ground:0.00 USD
Check Price >>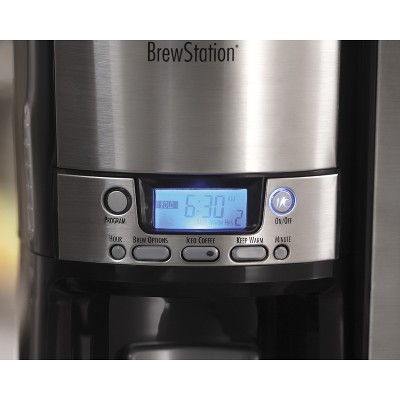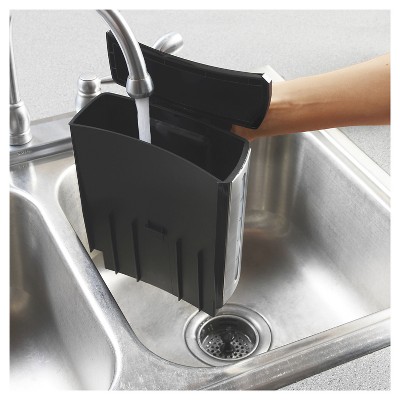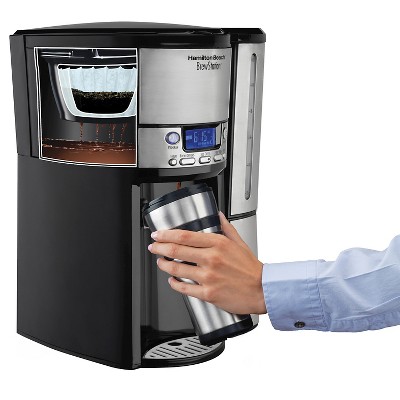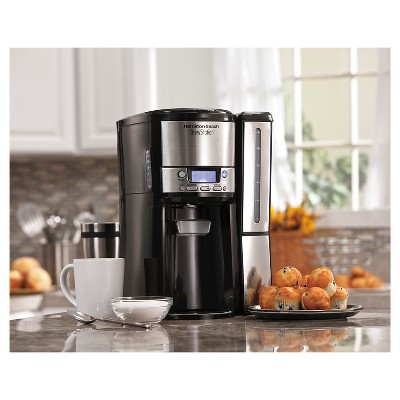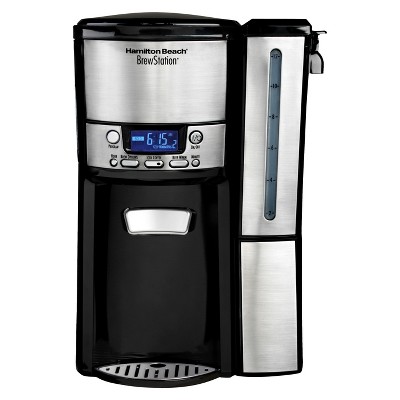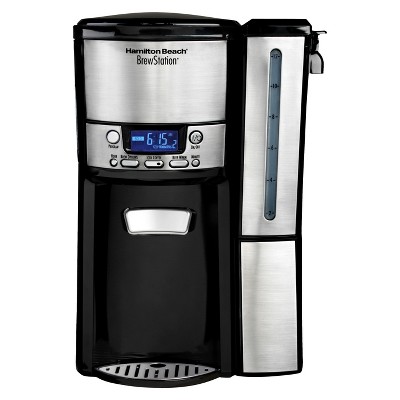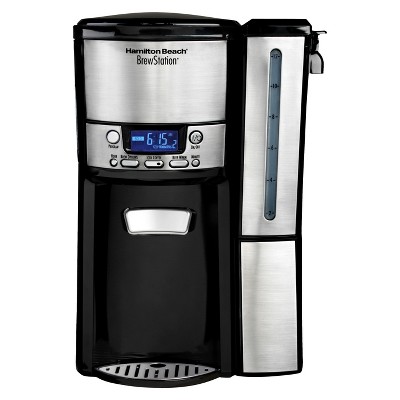 Related Posts
Hamilton Beach Triple Basket 2.9qt Deep Fryer –
Hamilton Beach 10 Cup Food Processor- Stainless 70760,
Hamilton Beach 1.7L Illuminated Glass Cordless Kettle –
Hamilton Beach French Press Coffee Maker with Hot
Hamilton Beach Modern Chrome (Grey) 2-Slice Toaster- 22791
Hamilton Beach 2 Way Flex Brew – 49954,
Hamilton Beach Belgian Waffle Maker, Silver 50769401
Hamilton Beach Professional 6 Qt. Sous Vide &
Hamilton Beach 3 Cup Food Chopper – Black
Hamilton Beach 2lb Home Baker Breadmaker – White
Product Features
Hamilton Beach 47950 12 Cup BrewStation Coffee Maker- 47950
Besides eliminating the need to pour coffee from a carafe, the BrewStation Dispensing Coffeemaker with Removable Reservoir simplifies another messy chore: filling the water reservoir. Instead of opening the top of the coffeemaker and pouring in water, which typically involves pulling the coffeemaker forward for better reach, this coffeemaker is equipped with a removable side reservoir that lifts off for easy filling at the sink. The BrewStation Coffeemaker with Removable Reservoir means no pouring and no spilling. Thereโ€™s no need to use either a carafe or a pitcher for messy filling because the water reservoir removes from the side of the unit, allowing for fast, easy access. This cleverly designed reservoir holds enough water to brew multiple cups and is equipped with a water level indicator for filling smaller amounts as well. This latest version of coffee-dispensing convenience is from Hamilton Beach, the brand that invented the original โ€œcoffeemaker without a carafe.โ€ Earning high praise since its debut, the dispensing coffeemaker concept changed the way people enjoy coffee. A quick push of the dispenser bar and coffee is dispensed right into the cup; thereโ€™s no breakable glass carafe or messy pouring to contend with. Inside each BrewStation tank is a gentle heater that maintains coffeeโ€™s hot temperature without scorching the flavor. From top to bottom, every coffeemaker in the BrewStation line delivers the innovation and convenience that coffee drinkers and home cooks have come to expect from the Hamilton Beach brand. Size: 12 Cup.
Product Image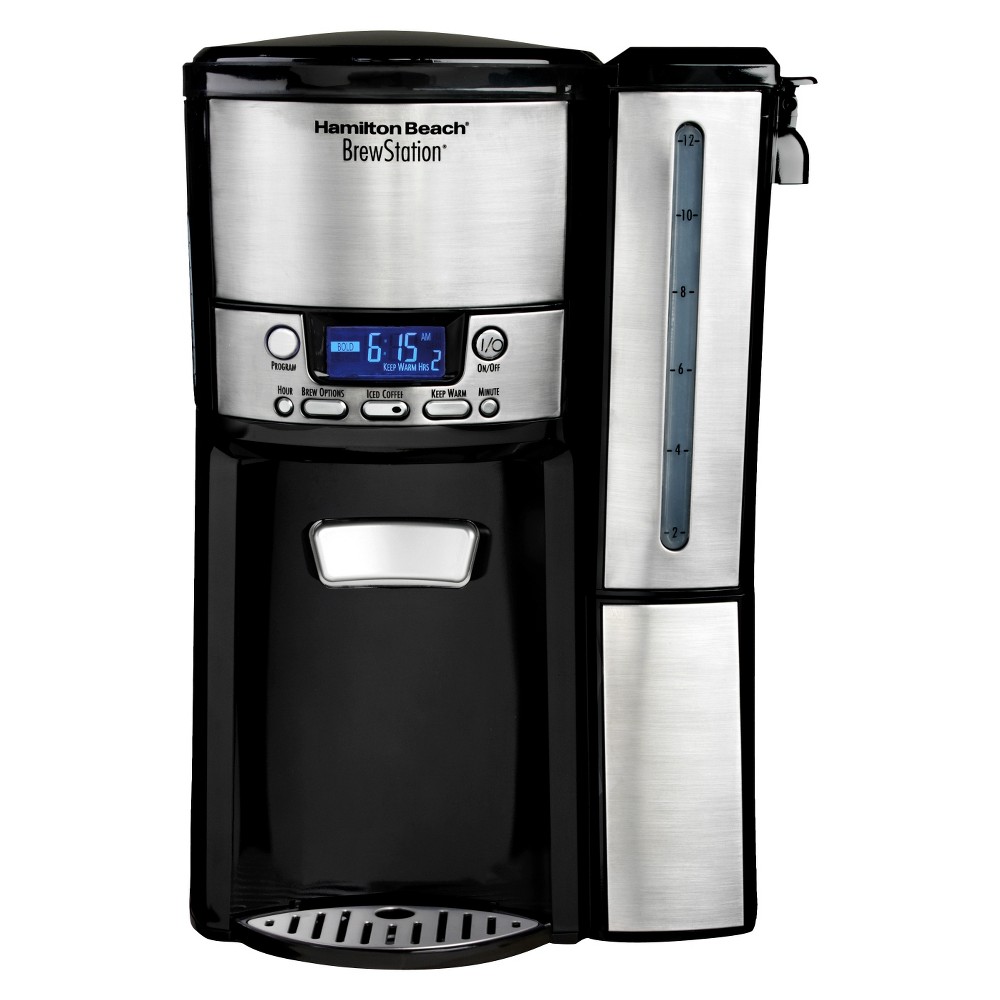 Product Name :
Hamilton Beach 12 Cup BrewStation Coffee Maker- 47950
Product Group :
Kitchen Appliances
Product Sub-Group#1 :
Coffee Makers & Espresso Machines
Product Sub-Group#2 :
Beverage Appliances
Product Categories :
Coffee and Espresso Makers
Price :
49.99
Product Model :
Hamilton Beach 47950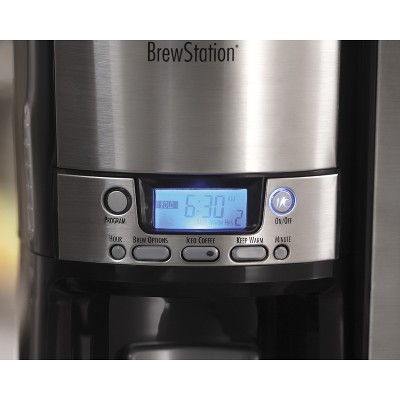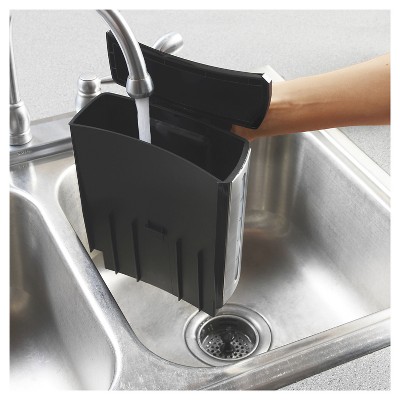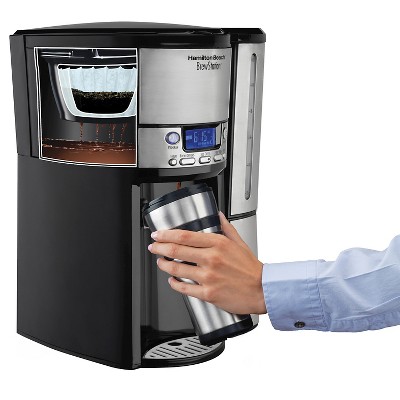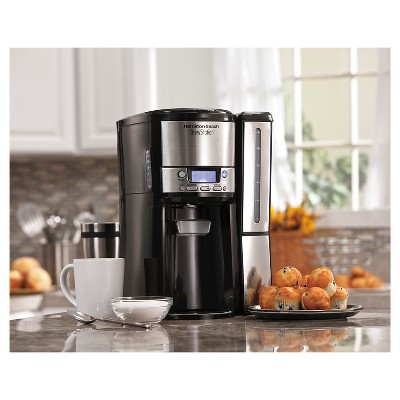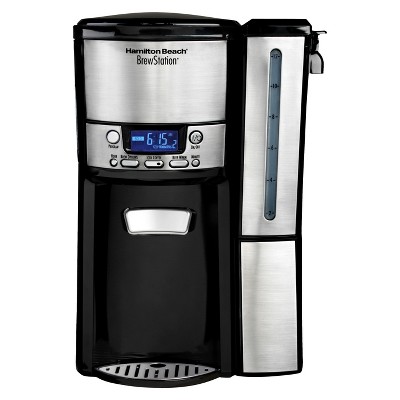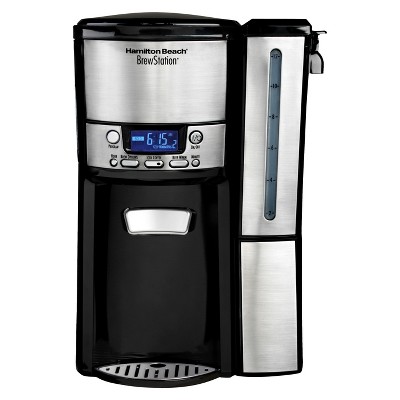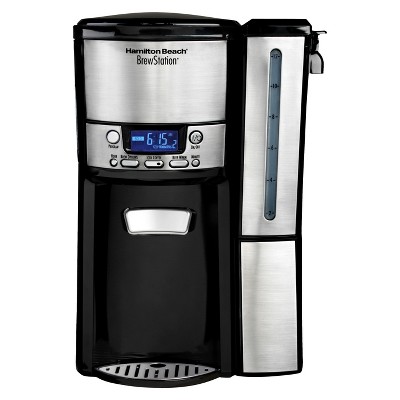 Product Information
Hamilton Beach 12 Cup BrewStation Coffee Maker- 47950 14247177 14247177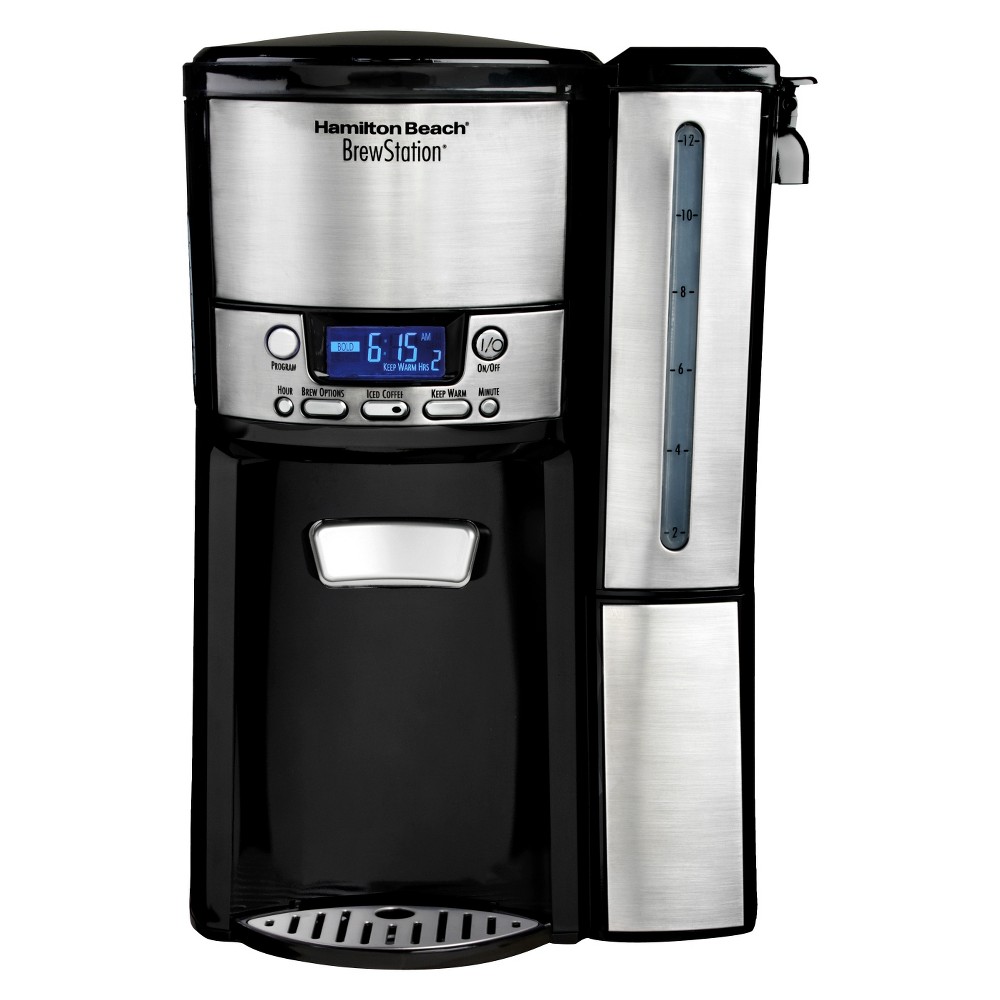 You just need to do a little investigation on the internet to find the best Coffee Makers. You have to look for a reliable web store where you will receive the best deals and offers. Additionally, high-quality kitchenware and also Beverage Appliances such as Hamilton Beach 12 Cup BrewStation Coffee Maker- 47950 from trustworthy and good online stores will make your cooking fun and interesting hobby compared to boring work opportunities. You can compare the prices of many online stores to obtain a cheaper price for your Coffee and Espresso Makers. The best part of online shopping is you get a kitchen product at your doorstep within a short time. Internet shopping features a clear picture of modern kitchen products including purchasing Hamilton Beach 47950 12 Cup BrewStation Coffee Maker- 47950 which has the ability to high light the beauty of your kitchen. In addition, now, with the simplicity of accessing the internet, most people can use this easy as well as convenient facility. This option is especially useful for hectic people. Therefore, there is an option to save your time along with be useful with the best products at a reasonable cost. Online shopping allows you to travel through many online stores whenever you want. The online store is open twenty-four hours a day and you can buy products anytime. There are various types of home products, from big to small goods such as Hamilton Beach 47950. You can compare costs, features and comments from various online stores to get kitchen appliances or Hamilton Beach Beverage Appliances according to your needs. You have to know exactly what to buy for your home. Don't just go ahead and buy without careful consideration. Which means you have to check the quality of the device, the warrantee period and the refund policy. See customer feedback and buy the best online kitchen area products. To buy the very best quality online kitchen appliances along with accessories will entice attention to your kitchen. Along with advanced technology and ideal brands online, you can pick up your kitchen products such as Hamilton Beach 12 Cup BrewStation Coffee Maker- 47950 14247177 without the hassle. With all the latest variety and a lot of options in on the internet kitchen utensils , you are going to truly get what you need. When you get a good Drip Coffee Makers,Kitchen, you can cook and enjoy the cooking as well.
Read Reviews and Find Deals on Hamilton Beach 47950 12 Cup BrewStation Coffee Maker- 47950. Specially designed and durable!